Dojo Rules
Be moderate and courteous.
Be righteous and have a strong sense of justice.
Be modest in your words and actions.
Respect others.
Karate do is a lifetime study.
Dojo Kun
Hitotsu. Reigi O Omonzuru Koto
Hitotsu. Tadashi Seishin O Motte Sei Ken To Suru Koto.
Hitotsu. Setsudo Aru Gendo Koi O Kokorogakeru Koto.
Hitotsu. Otagaini Shinji Ai Kyocho Shi Au Koto.
Hitotsu. Doryokuto No Nintai No Seishin O Yashinau Koto.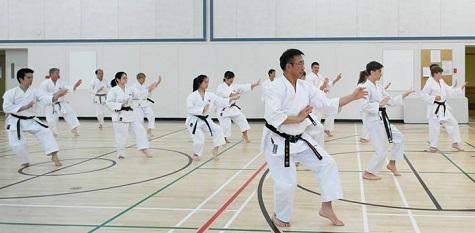 Numbers
| | | | | | | | | | |
| --- | --- | --- | --- | --- | --- | --- | --- | --- | --- |
| Ichi | Ni | San | Shi | Go | Roku | Shichi | Hachi | Ku | Ju |
| 1 | 2 | 3 | 4 | 5 | 6 | 7 | 8 | 9 | 10 |
Common Terms:
| | | |
| --- | --- | --- |
| Karate - Empty hand | Karate-do - The way of karate | Sensei - Instructor |
| Samurai - Warrior | Bushido - Code of the warior | Budo - Martial Arts |
| Dojo - Training hall | Gi - Training suit | Obi - Belt |
| Rei - Bow | Osu/Oss - Greeting | Hikite - Retract arm |
| Kiai - Yell | Shomen-ni-rei - Bow to the front | Sensei-ni-rei - Bow to senior instructor |
| Shihan-ni-rei - Bow to master | Otaga-ni-rei - Bow to each other | Sempei-ni-rei - Bow to senior |
| Yame - Stop | Yoi - Ready | Hajime - Start |
| Yasume - Rest | Kyu - Grades other than black belt (e.g. 6th kyu = white belt, etc. | Dan - Black belt degrees or levels |
| Shomen - Front | Gedan - Lower | Chudan - Middle |
| Jodan - Upper | Mokuso - Meditation | Seiza - Formal sitting position |
| Ki - Internal power | Kime - Focus | Tanden - Lower abdomen |
| Zanshin - State of mind and body - calm but fully aware. | Kata - Pre-arranged fighting forms | Kihon kumite - Basic pre-arrranged fighting practice |
| Jiyu ippon kumite - One-step free-style fighting practice | Jiyu kumite - Free sparring | Ippon kumite - One point free-style sparring |
Techniques - Basic (White and Yellow Belts):
| | |
| --- | --- |
| Blocks (Uke) | Punches (Tsuki) |
| Harai uke - Downward block | Shomen tsuki - Basic front punch |
| Yoko uke - Inside middle block | Gyaku tsuki - Reverse punch |
| Jodan uke - Upper block | Oi tsuki - Lunge punch |
| Sukui uke - Scooping block | |
| Shuto uke - Knife-hand block | |
| | |
| Hand strikes (Uchi) | Kicks (Geri) |
| Shuto - Knife-hand strike | Mae (Shomen) geri - Front kick |
| Uraken - Back fist strike (jab) | Sukuto geri - Side kick |
| Empi uchi - Forearm elbow strike | Mawashi geri - Roundhouse kick |
| Ura uchi - Back fist | |
| | |
| Stances (Dachi) | |
| Heisoku dachi - Attention | |
| Shizen dachi - Natural stance | |
| Shiko dachi - Sumo stance | |
| Zenkutsu dachi - Forward stance | |
| Neko ashi dachi - Cat stance | |
| Sanchin dachi - Inward tension stance | |
| Musube dachi - Informal attention | |
| Kiba dachi - Straddle (horse) stance | |